Welcome to Kevin C. Allman D.D.S. Dentistry
"Providing a Beautiful Smile and a Healthy Mouth"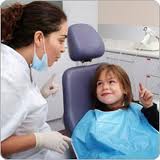 Dr. Allman's Family Dentistry offers state-of-the-art technology for their patients in order to give them the best care.  For example, Dr. Allman utilizes a dental CAT scan that creates a three dimensional view of your teeth instead of the traditional two dimensional x-ray used at most dental practices.  It is the highest level of quality diagnostic equipment that can be purchased – in fact, we are one of the few offices in the country that actually have it.
We are blessed with the ability to treat so many people that we can readily make added investments for the good of our patients' health and well-being.
Dr. Allman also offers same-day dentistry, which means that a variety of his procedures can be done within one visit instead of numerous appointments. This, along with the benefits of pain free dentistry, allows him to keep his patients comfortable and make their appointments as enjoyable as possible, easing fears and anxiety while caring for their teeth.
Dr. Allman's office also employs a number of staff that are highly specialized and trianed in areas of dental care that most are not. Ongoing training is a must.
Dr. Allman's Family Dentistry also focuses on holistic dentistry. By taking care of your mouth, you are taking care of your entire body. Your overall health is highly impacted by your oral hygiene. By attending to your dental needs, you also care for your entire body. Dr. Allman believes that a healthy body encompasses a healthy mouth, so by visiting the dentist regularly and addressing any dental concerns you may experience, you can lead a healthier life. Call and experience the difference Dr. Allman delivers to your teeth and your over all well being. Call Today! 816-628-3384
Dr. Allman has been my dentist for well over 10 years. I remeber first visiting Dr. Allman and becoming a patient of his. I have never had to worry about dental problems since. I have refered my family and friends to him and his staff. They are Great! I would highly recommend anyone, family or friends, to  Dr. Kevin Allman and his Cosmetic and Family Dentistry Practice.

W. Harrison and his family members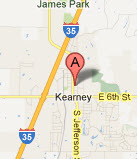 Discover & Experience The Best Dentist
Our family dentist office is conveniently located in Kearney, just minutes from Liberty and Kansas City. With extended day and evening hours, our dental office will help you schedule convenient appointments. If you live in Liberty, Kansas City, Kearney, Holt, Excelsior Springs, or the surrounding areas, Dr. Allman and his team look forward to becoming your preferred family dentist. Call Dr. Kevin C. Allman Cosmetic and Family Dentistry today to reserve your new patient visit. 816-628-3384